How It Works: The Publisher Perspective
Let's look at how MagCast works from your perspective as a magazine publisher.

Magazines start life as PDFs.

As a platform, MagCast is agnostic as to what PDF creator publishers use, so whether you're using Adobe InDesign, Canva, or even PowerPoint, your PDFs will look great in MagCast.

As long as your tool is creating standard PDFs of 768x1024, MagCast will turn those beautiful designs into pixel-perfect magazine pages for display in your apps.
Here's what it looks like inside
a MagCast publisher dashboard
Upload your PDF(s), drag and drop them into place in the dashboard as you see fit, add any links, audio, video, or other elements, and the issue is ready for testing.
Click [Test Mag] in your dashboard, and YOU and you alone will see what the issue looks like inside the MagCast Publisher's Preview App.
The Publisher's Preview App lets you--no matter how new you are to magazine publishing--have complete confidence your magazine looks exactly how you want it to.

Test publish as many times as you'd like 'til your magazine is just right.

No strings attached, no hidden fees.

Play around with it 'til your satisfied.

Once you are, you click [Publish Mag], and within minutes after you hit [Publish Mag] within your MagCast dashboard, it's ready for download all across the world.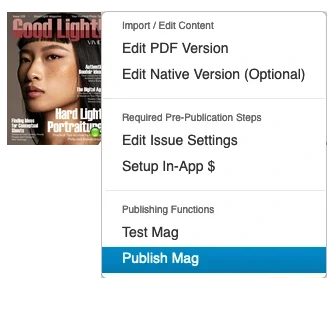 Oh, and even if you discover you've made an error after you've hit publish, you can still make changes AFTER you've gone live, and readers who've already downloaded the issue will be notified there's a new version of that issue available to download.

When you do publish new issues, those new issues automatically appear inside your app for readers who've downloaded the app.

As for your subscribers, inside the app, for them new issue links automatically turn from [Buy Now] to [Download], where they're able to download that content from almost 300 magazine distribution nodes we have around the world.

With over 3,000,000 reads a month, it's a tried-and-true system you and your readers can count on.

Lastly, keep in mind these two things:
Magazine readers ​pay​ for content.

Even ordinary content you'd put into a blog or email newsletter becomes special when it's in a magazine.


Your app lives on their favorite device and goes with 'em wherever they go.

Here's a look inside a real live MagCast magazine app.
How It Works: The MagCast Academy
If this sounds a bit daunting, you're not alone feeling that way.

That's why we created the MagCast Academy.

The Academy is geared for folks new to magazine publishing.

Each month a new MagCast Academy starts and over the course of just a few weeks, you'll go from newbie to publisher.

Along the way you'll get a custom roadmap tailored to YOUR magazine and goals along with the understanding of the steps to take to create, launch, and market your magazine.
And, since it's taught by two MagCast principals, you'll have access to instructors who are working magazine publishers.

You'll learn everything from how to source treasure troves of great content for free and how to build real relationships with the movers and shakers in your industry to help promote and grow your magazine—and your revenue.

You'll even see how to best promote your magazine EVEN BEFORE YOU'RE LIVE!

Wouldn't it be nice to have people lined up for your first issue even before you've finished it? You'll see how successful MagCast publishers do it month after month.
How It Works: The Wrap Up
Now that you've seen how MagCast works as a publisher, you've seen how easy it is and the results you can achieve.

And, you've even got some perspective on some of the things that make MagCast special.

If you'd like to see if it's a good fit for you and your goals, book a private 1x1 platform tour with us to get your own look behind-the-velvet rope.

We'll see you inside.

Pricing
Platform Tour

Payment Options

Best Value!
[15 months for the price of 12!]
Pay Annually
1 year membership ( + 3 free
bonus months) paid in advance

$2997/yr
SELECT & CONTINUE »